Faculty Member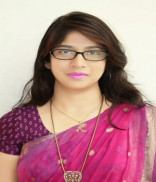 Short Biography:
Ayesha Siddika is the Program Coordinator and Assistant professor of Dept. of CSE, World University of Bangladesh. Previously she worked at Bangladesh Open University, as a guest faculty and also worked with Mobile Games and Apps development at ICT Division, Bangladesh, as a Head Coach.  She received her MSc. in CSE from the University of Asia Pacific in 2015 with a major in texture analysis. She has published 09 articles in different international journals. 
She has 7years plus teaching experience and 2 years plus program coordination experience. She has some international and national level training with certifications like-
Block Chain, Under Fast Track Future Leader (FTFL), LICT project of Bangladesh Computer Council (BCC), ICT Division, Supervised by University of Dhaka, 2019.
e-Learning, Organized by KJS Co. Ltd.(KJS), Japanese e-learning Company, Supervised by JICA Bangladesh, 2019,
Agile Planning Poker Estimation Techniques, Jointly Organized by PMaspire Limited and ADN EduServices Limited, 2017.
Teachers Training (50 hrs.), Organized by Future Gen International School and College (English Version), 2014
---